Naucrates, an Italian NGO, has been running a Conservation Project focussing on sea turtles, mangrove forest and coral reef at Phra Thong Island since 1996, Naucrates is in collaboration with the Phuket Marine Biological Center (PMBC). The project is registered at the National Research Council in Thailand.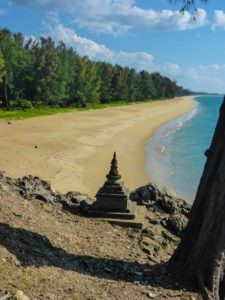 In parallel to the scientific work which has allowed conservation strategies to be designed and applied to the nesting sea turtle population, an educational program around the small communities and conservation awareness activities with local people and tourists is also carried out.

Since the beginning, we have found and protected nests belonging to 3 different species of marine turtles: Leatherback, Olive Ridley and Green turtle. Turtle nesting numbers have dramatically decreased over the years, so we cannot guarantee that during your volunteer period you will witness a nest or any hatchlings. During season 2019-2020, on December 2019 only one nest (Olive Ridley) was found on the beach. On the other hand, from a nearby hill you will observe juvenile turtles feeding and you will have the opportunity to learn about local wildlife; birds, monkeys and other animals. You will also be involved in work designed to help in the conservation of the environment. This involves interaction with the local people, engaging with them and involving them in the program. A large part of this work focuses on waste management and on plastic reduction.
Nature is unpredictable and this needs to be understood by all participants.
Naucrates needs staff members and people who are willing to learn about Thai wildlife and conservation in a very beautiful and unique island. Specifically, help is needed to monitor long beaches, make a small difference towards creating a cleaner world, raise awareness in the island's small number of tourists and work actively towards the preservation of local nature and all the while enjoying the beauty of a tropical and remote island.